© Catholic Cursillo Movement in the Archdiocese of Washington
Make a Friend, Be a Friend,
Bring that Friend to Christ

Fourth Day News
The Fourth Day News is the Newsletter of Cursillo in the Archdiocese of Washington. If you have made a Cursillo Weekend and would like to be added to our database to receive the Fourth Day News Click here. All other requests should be discussed with a friend or sponsor who has made a Cursillo Weekend.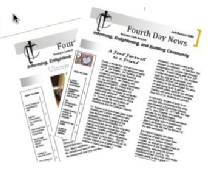 (Special Summer Edition for 2013)
2019
PRODUCTION SCHEDULE
1st QUARTER ISSUE
January – March
Submission Deadline
April 3rd
Publish Date-April 15th
2nd QUARTER ISSUE
April - June
Submission Deadline
July 1st
Publish Date-July15th
3rd QUARTER ISSUE
July - September
Submission Deadline
October 1st
Publish Date-October 14th
4th QUARTER ISSUE
October – December
Submission Deadline
December 9th
Publish Date-Dec 23rd
Do you have thoughts, poems, prayers,
or reflections to share?
The Washington Cursillo® Community
wants to hear from you!!
Ultreya Leaders, please send us your sharing ─
it would be great to hear from
each leader at least once a year!
Babe Chicks
your articles are the most important ones.
Let us hear from you.
If you know someone who has
gone on to their 5thDay,
we need your memories.
Please send them before the submission deadlines!!!!! Articles should be submitted in Arial 12 Font Size no later than the "submission deadline" listed on the Production Schedule.
Remember to sign your articles with your name, weekend, and Ultreya.
Submit articles by email at any time to:
Lethia Kelly
communications@washdc-cursillo.org